Posted: August 17, 2011 at 7:00 am
Things got a bit heavy in here yesterday. I think its time to lighten up the mood a bit. Put a smile on and talk about something that gets you all warm and gooey inside. Maybe do a little What I Ate Wednesday action.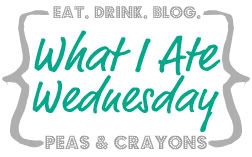 Maybe deliver on that brownie recipe I promised you way back when on Monday before things got all dramatic.
On Monday I promised you a brownie recipe to make your heart melt. So you shall get a brownie recipe to make your heart melt, my friend. Just make sure you don't spend too much time swooning because then your heart won't be the only thing melting. Your brownies will, too. And we don't want that now. That would be wasteful. I don't know what would happen to our relationship if you wasted brownies, coffee, and ice cream all in one fell swoop. I prefer not to find out either. So just make these and eat them all promptly. Which, I don't think that will be too much of a challenge because…hello?!?! They're brownies, coffee, and ice cream all in one!
Are you confused yet? Ice cream? Where's the ice cream?! Don't worry. I shall help you. It's what friends do. You see that fudgy layer?
That…my friends…is magic in the form of Starbucks Ice Cream. I received some coupons to try two pints of Starbucks ice cream free for review. Coffee and I are *likethis* so, of course, I chose two coffee based flavors – Java Chocolate Chip and Mocha Frappuccino.
No doubt, my first taste test came in the unadulterated state of a small bowl.
Good. No…not just good. Impressive. Striking. Bold. Magnificent. Both flavors packed a definitive coffee punch in the form of one of my favorite foods. I could have just eaten my way through both pints with Peter. Not a bad idea…but then they would disappear too quickly. I needed to up the ante. I needed to allow my coffee and ice cream love to mingle with yet another beloved of mine – brownies. And so was born Easy Coffee Toffee Ice Cream Brownies. The title may be a mouthful, but it's a mouthful you want to take.
Easy Coffee Toffee Ice Cream Brownies
your favorite brownie recipe
2 TBSP instant coffee
1 cup Starbucks ice cream (I chose the Mocha Frappuccino flavor)
1/2 cup plus 2 TBSP cold milk
small box instant chocolate pudding mix
1 cup crushed toffee pieces
I find that everyone has a favorite brownie recipe or a boxed mix they love. Let's not mess with your tried and true preference. Just add in the 2 tablespoons instant coffee powder to your brownie batter and bake as normal. Cool brownies completely.
Add the Starbucks ice cream, milk, and box of chocolate pudding mix to a bowl. Stir until evenly combined. Spoon mixture over the brownies.
Sprinkle toffee bits evenly over the top and gently press into the ice cream / pudding mixture. Place back in the freezer for at least 2 hours to harden.
Cut into large brownies because no puny portions will do with these bad boys. Admit it…we're all drawn to the bad boy from time to time. You'll be drawn to these too. Dark. Mysterious. Bold. Smooth. Knock you off your feet and keep you up all night.
From the sugar and caffeine, people! I was still talking about brownies! Where are your minds going? Sheesh. I gotta keep a close eye on you.
And not only for still daydreaming about Ryan Reynolds a week later. I have to make sure you don't steal any of my brownies. Make your own. I promise they're easy. I promise they're worth it. And I always keep my promises.
Favorite thing to order from Starbucks? I want to get my hands on a Coconut Mocha Frappuccino after Julie mentioned it a couple nights ago!
Brownies – fudgy, cakey, or not at all? Must. Be. FUDGY!!!
Disclaimer: I wrote this review while participating in a campaign by Mom Central Consulting on behalf of Starbucks and received coupons and a promotional item to thank me for taking the time to participate. All my opinions, as always, are 100% honest.
Tags: desserts, recipes, review, what i ate wednesday