Posted: August 24, 2011 at 8:00 am
A little birdie told me today is the last day to enter the Love Grown Foods prize pack giveaway! But for now, some What I Ate Wednesday fun thanks to Jenn @ Peas and Crayons. This week = The Birthday Edition!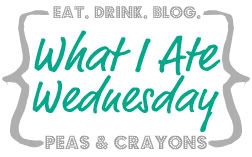 I had such a great day yesterday for my birthday! And it wasn't even my full blown "celebration day"! That's coming on Saturday with whatever Peter has planned.
The day rocked regardless! I even got greeted with a special package first thing in the morning. Peter snuck up on me as I was writing a blog post before the kiddies awoke with a little gift for me.
What was inside? None other than some Mama Pea!!!
I have wanted her cookbook since it came out but kept holding off to see if it showed up on my birthday. I can't wait to make some goodies from her book. Love me some Mama Pea! And apparently so does little M. She keeps looking through the book telling me "I like this food" and "These are my friends" (talking about Gigi and Lulu). Sarah – wouldn't it be so fun to get the girls together? I think we would have a cuteness explosion!
After that, my day kicked off with that insane full body weights workout I shared with you yesterday afternoon. Followed by a bowl of magic. Chocolate oats for the win!!
And Barney Butter loves me so much they gave me a birthday present too…
Or I just used my sample from my HLS swag bag. I can pretend, though. PS – Barney Butter = as fabulous as people say it is. Y to the U to the M.
The rest of the day went by as any other since I did have two little munchkins to care for and blogging to do. Good thing I absolutely LOVE LOVE LOVE both of my jobs. You know what they say – work doesn't feel like work if you love what you do. And that is certainly the case for me.
I managed to get a lot done, which is a gift in itself. Productivity makes me happy. I took a break for a scrumptious lunch – black bean/sweet potato/BBQ sauce wrap and a pineapple Chobani.
With an Adora calcium disc as a sweet ending. Adora had samples in the swag bags loves me and gave me a birthday present too.
I was thrilled to get these samples because I had always wanted to try the Adora chocolate calcium discs and with good reason. They actually taste like really good chocolate! And a calcium boost doesn't hurt either.
When Peter arrived home, I took some additional time to myself to fit in a quick cardio workout. I did 40 minutes of a Turbo kickboxing workout and loved every sweaty minute. I followed that with a shower and some more time relaxing with my little family before I had some special visitors!
Hello to my mom and my sister!!! They came to hang out for the night and help me eat some sushi. A birthday calls for one of my favorite foods, wouldn't you agree?
We shared a version of a spicy tuna roll, a salmon and avocado roll, steamed dumplings, and a pile of steamed veggies.
I love how easily you can order healthier dishes from Chinese/Japanese restaurants. And somehow their steamed veggies taste so much better. The perfect crispness!
The good food didn't end there, though. Oh, not at all. No birthday would be complete without some form of dessert. It's a law. I foresee a big birthday treat coming my way this weekend, so decided to go the simpler route and opted for some creamy Blue Bell chocolate chip cookie dough ice cream from the freezer.
Blue Bell makes the creamiest ice cream you can get at the store. And their cookie dough bits taste like real dough! Heaven.
So, as you can see, I had a GREAT birthday! And once again I thank you tremendously for adding value to my special day. The plethora of birthday wishes, overwhelming excitement of the Love Grown Foods giveaway (have you entered?!), and just your smiling faces visiting here regularly leaves me speechless. I will forever find myself thankful for God placing me in this stellar community. It blows me away. Muah!
What cuisine do you find easiest to order healthier options?
What is your favorite ice-cream to buy from the store?
Tags: breakfast, dinner, family, lunch, what i ate wednesday