Posted: July 20, 2011 at 7:00 am
After giving birth to Makenzie, I discovered one of the best things ever. Food is not the enemy! In fact, my body told me EAT if you want to get in the shape you hope to achieve. And as I grew deeper in my faith and recognized my body as something of value, I began to see the importance of respecting it and fueling it adequately. I finally chose to listen to my body after years of following crazy food rules and ended up in the best shape of my life. I took that same approach post-Braedon and, wouldn't you know, I made the same sort of progress and feel pretty dang good if I do say so myself. Eat well. Have energy. Live well. Get a healthy, strong, FIT body. Don't mind if I do!
It always saddens me when I hear about diet plans with recommended calorie intakes of 1200 calories. I truly believe its possible for a healthy individual with no metabolic issues to lose weight eating more than that. I hope to display that you can certainly eat enough food to fuel your body well, feel satiated, and still make progress.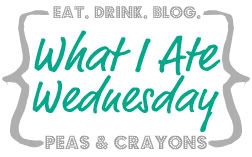 I certainly don't post all of my eats on a daily basis, so for today's What I Ate Wednesday post I wanted to give a rundown of ALL my typical daily meals and how they add up. I even broke out the Eat Smart Precision food scale I received at the Fitbloggin conference to get accurate counts for you all. I ate as I normally do, but simply measured the portions I typically use. The scale made measuring for the day easy and accurate since I could choose to measure in grams. Note: If you measure things, always use grams. You get more food. Reason enough for me!
Oh, flashbacks to competition prep days! It's been a long time since I've measured things besides the occasional check on portion sizes or for recipe purposes. And it's certainly been forever since I have measured things like raisins! Nevertheless, I wanted to get an accurate depiction, so here we are. Besides - calories beware. You don't scare me!
Pre-Workout:
Banana = ~ 110 calories
Breakfast:
1/2 cup rolled oats cooked in water
4 large strawberries diced
handful of raisins (ended up at 26 grams)
big blob of peanut butter (ended up at 29 grams)
splash of unsweetened vanilla almond breeze to reach the right consistency + almond milk in my iced coffee (~ 1/2 cup)
sprinkle of brown sugar for sweetener (~ 1 tsp?)
Grand Total = 467 calories
Lunch:
flat out wrap
sliced deli ham – 4 oz
1 garlic herb laughing cow wedge
mustard
handful of spinach
thick slice of tomato
2/3 of a mango
2 large carrots chopped into sticks
2 tablespoons Sabra Roasted Pine Nut hummus
Grand Total = 432 calories
Afternoon Snack:
whole wheat English muffin
spread of peanut butter on each slice (equaled 14 grams)
spread of "just fruit" strawberry jam on each slice (equaled 12 grams)
6 oz container vanilla Chobani yogurt
handful Kashi Honey Sunshine cereal (equaled 22 grams)
Grand Total = 448 calories
Dinner:
3/4 cup cooked whole wheat penne pasta
chopped cherry tomatoes
diced zucchini
diced mushrooms
chopped artichoke hearts
chopped black olives
1 oz feta cheese
1.5 tbsp Ken's Northern Italian dressing
Grand Total (estimate on this one because I got so sick of measuring): 450 calories
Dessert:
Private Collection cookie ice-cream sandwich while finishing up The Bachelorette
Total = 240 calories
In total, I ate 2147 calories on a typical day of meals. I haven't changed my eating habits from when I made progress on my Body After Baby journey. I usually eat a good deal more than this on weekends as I consumer more "treats" and have a hunger monster at work every Saturday after my long runs. Sure, every body is different. However, I know in light of certain diets, it can appear that we need to eat less less less. From my personal experience, I find the opposite. My body will only reach the places it has when I give it what it needs. And I want to show the value in eating enough. Enough is different for each body…but why not push the limits to get the most quality fuel you can to it? Eating is fun. Enough with the starvation!
Do you ever track your food at all?
Because I'm curious – your thoughts on The Bachelorette if you watched!
Tags: breakfast, desserts, dinner, healthy eating, lunch, snacks, what i ate wednesday