Posted: July 27, 2011 at 7:00 am
Another week. Another Wednesday. Another chance to share meal ideas, food inspiration, and delicious creations through a What I Ate Wednesday post. That was the plan at least.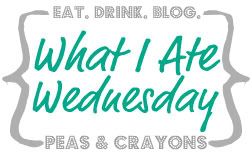 INSTEAD…no notable food worth blogging crossed my lips yesterday.
Yesterday morning I told my "I Feel Fat" thoughts to be damned and move out of the way so I could get on with life. INSTEAD…I battled the migraine of the century and still felt "off" all day long. I didn't practice negative self-talk like the day before, but I certainly didn't have the positive, healthy day I hoped for either.
I had no appetite, but finally decided I needed to eat so had my standard bowl of oats at a late 10 am in hopes of feeling better.
Instead…those oats made a reappearance less than an hour later. In the shower. Ick.
I knew then I needed to take it easy and even set out to nap for a couple of hours when the kids laid down for their naps.
Instead…neither child thought naps sounded like a good idea yesterday. Of course!
In the afternoon, I had a Skype chat with Love Grown Foods planned.
Instead…I spent my afternoon curled up in a ball on the couch waiting for the migraine to subside, which it finally did around dinner time.
Last Friday night I had the genius idea to go ahead and meal plan out an entire month of dinners. I took our staple meals that we have at least every few weeks – such as enchiladas or stir-fry - and scattered them across four weeks. I penciled in an easy night each week with things like breakfast for dinner or sandwiches. I accounted for one "entertainment night" a week for date nights, dinners out for social gatherings, or grabbing a pizza. I then dubbed one night each week as a night to try a new recipe. I adored this plan because it meant the inevitable Friday night anguish of meal planning and grocery list making wouldn't have to drive me so crazy anymore.
For this week's plan, Tuesday night equaled Mama Pea's noodle bowl because we have already dubbed it a "staple meal". 
Instead…the last thing I wanted to do was cook. The last thing I wanted Peter to do was cook and leave me with bedtime duty. 
Yet once I had my appetite back, I wanted FOOD. I wanted food like 10 minutes ago after only eating a bowl of oatmeal that didn't stick and a couple handfuls of Kashi cereal the entire day. I wanted comfort. Instead of my planned bowl of vegetables, healthy fats, and whole grains, I ended up with…

chicken salad sandwich and chips from Atlanta Bread Company
So much for the meal plan this week. So much for getting back to "feeling like myself" yesterday. So much for a What I Ate Wednesday post that shares meal ideas, food inspiration, and delicious creations. But life doesn't always turn out so nicely. Instead…it may hand you lemons disinfectant for your shower.
Ever suffered a migraine?
Give me an "instead" moment you've had recently.
Tags: what i ate wednesday