Posted: August 10, 2011 at 7:00 am
Earlier this week a certain someone (cough Katy cough cough) divulged that you can now find fall candy in stores. That means candy corn, people. I'm not a huge candy eater. I will occasionally nab a box of Hot Tamales when going to a movie in the theater. And I won't turn down a good piece of chocolate if its around. Nevertheless, I will still choose a mountain of ice cream, a hunk of frosting, or a slab of brownie over candy. Except for candy corn. It does something to me. It triggers this monster of a sweet tooth and I can visualize my hand trying to grasp as many of those smooth little triangles as possible to nibble away on until I reach the oblivion of sugar ecstasy. Yea, Katy. Look what you did. 😉
Despite my appreciation love preference full-blown-obsession with the stuff, I know I can't gobble candy corn to my heart's content and honor my health in the process. So instead of hunting down a bag in early August (stores just turn stuff out earlier and earlier, huh?!), I decided to ease my candy woes with healthier choices to dull the longing. Who says healthy eating can't be fun and taste like candy? Okay, the tasting like candy thing may be a bit of a stretch…but healthy food sure can taste amazing and satisfy just as much as candy in its own right. I present you with  my healthy "candy" filled day!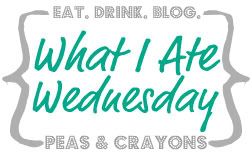 Breakfast: Mounds / Raisinets / Reese's Oatmeal
Or, more simply, chocolate oats with some coconut, raisins, and peanut butter tossed on top. 😉 I don't care what you say, though. This bowl was epic! And I would probably choose it over the above in candy form.
To make the oats chocolate, I used unsweetened chocolate almond milk instead of vanilla and added a spoonful of cocoa powder to the oats. Other than that, I prepared them as normal and piled on the coconut, raisin, peanut butter goodness when done. It's a new obsession.
Lunch: Starbursts
Fruit = nature's candy. Perfect mango chunks and grapes = better than any Starburst I've ever tasted candy. Each bite bursts with such juicy, fresh flavor. Y-U-M. Oh – there was a sandwich and some carrots there too. They were good…but they weren't starbursts.
Snack: Chocolate Covered Strawberries
Would you believe me if I told you that the above chocolate pudding look-alike actually contains spinach? That it's actually a green smoothie masquerading as pure decadence? Well, it is. Trust me. This Chocolate Covered Strawberry green smoothie started as a bunch of things thrown in a blender -
1 cup unsweetened chocolate almond breeze
2 handfuls spinach
1 frozen banana
a few large frozen strawberries
a spoonful of cocoa powder
1/2 tsp xanthan gum
Then, it became the best green smoothie I have ever tasted. I discovered the one and only downfall to smoothies in a wine glass with this blend – you can't lick a wine glass clean.
Dinner: Errrm…Green M&Ms???
Alright…dinner doesn't really have anything I can call candy. But I do love me some Brussels sprouts (favorite veggie besides spinach in smoothie form) and so I shall call them Green M & Ms. Work with me. We can't allow an entire post's theme to fall in a shambles now ,can we?
Dinner brought back one of my favorites – BBQ Tofu Wraps! These make healthy eating fun and irresistible…like Ryan Reynolds. Hey, what do you know? I did find a way to tie in the candy theme. Eye candy at its best!
Oops. How did that get in there? So – dinner. BBQ Tofu Wraps with a side of Brussels sprouts. There's your description of dinner. I'm currently mildly distracted and have no more words. Plus, I don't want to short circuit my keyboard with my drool. Purely from my candy delicious eats today. Purely. Happy What I Ate Wednesday, friends!
Are you a candy fan? Any healthier options you use to satisfy cravings?
Who would be your eye candy?
Tags: breakfast, dinner, lunch, snacks, what i ate wednesday