Posted: August 26, 2010 at 6:00 pm
So, did you see? If you missed it for some reason – we're having a BOY!!! So excited to know that its little Braedon Hunter growing and moving around in there. :)Thanks for the comments and excitement everyone. Your love and support always warm my heart
After the appointment today, I craved movement. You could say I had energy to burn. I broke into my workout DVD case. Check out the monstrosity of it.
That would be an old-school CD case filled with likely at least 60-70 workout DVDs. My love of fitness began in the living room of my parents' old house the summer after my sophomore year of college with workout DVDs. I relied on them and didn't join a gym until my senior year of college. Even though I love they gym, I still continuously compile at home DVDs to have some extra variety and an option for when the gym can't happen. Overall, workout DVDs have many pros…but they also have cons.
Pros
Good option when no gym available or can't make it
More flexibility with scheduling – work out when YOU want to
Less overall time needed without driving to/from gym
New ways to challenge yourself – do moves you wouldn't do on your own or at a gym
Good starting point for beginners – guided workout and not as scary as a gym
Cons
Less variety unless you have a larger collection
Hard to get motivated for a workout with your couch, roommate, dishes to do right there
Can add up cost-wise to buy DVDs and related equipment if needed
Need extra space in your home
Noise or distraction from others
Since I also have access to a gym and acquired most of my workout paraphernalia over a few years, the pros outweigh the cons for me. My personal library includes an extensive selection. Let's take a look shall we?
Slim in 6 – Beachbody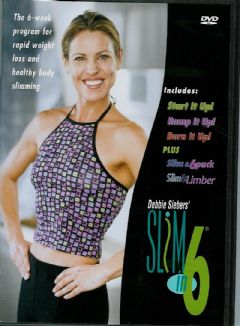 My first workout DVD set and what started it all. These videos fit a beginner perfectly. They are very basic and I don't use them in my regular scheduling anymore. They do come in handy after birth though. I used them beginning a few weeks after M and plan to do so again after this baby.
Turbo Jam – Beachbody (and Turbo Kick borrowed from a friend instructor)
For fun I tried out Turbo Jam and ended up falling in love. These don't provide the most intense of workouts but they are fun and get the heart rate up. I turn to them often because of the fun factor. Plus, at 45 minutes, they are the perfect length for quick but effective training.
Cathe Friedrich
She blows my mind. Every time. I don't believe you can find a more top notch instructor in the fitness DVD world. She cues perfectly, knows just how to motivate, and works you HARD. I don't end a single workout of hers without feeling spent. Everything she makes is fantastic. From weight workouts to circuit workouts to HIIT workouts to kickboxing. She does it all and well too. Can you tell she is my favorite? 😉
Those are the options I currently own. I do want to add Turbo Fire and Insanity to that mix though. I've also heard wonderful things about Jillian's workouts and things like Core Fusion. And I will let you in on two that I HATE. Anything Tony Horton (including P90X) and anything Billy Blanks (TaeBo). It's not the workouts I can't stand…it is solely the style of the instructors. I can't help it. I hate them. You can throw rocks at me now.
Do you use workout DVDs? If so, why do you like them? If not, why not and what do you prefer?
What are your favorites? Or what would you be interested in trying?
Giveaway coming tomorrow on the blog!!! 😀
Tags: workout DVDs