Posted: August 3, 2011 at 7:00 am
I think my body has gone into overdrive on wanting to get back to my regular eating habits after last week. I have encountered numerous cravings the past couple of days. Luckily, all of my cravings have come in the form of healthier choices in lieu of the incessant pizza and ice cream cravings of last week. How nice to have a place to share them with you for another What I Ate Wednesday post!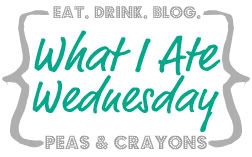 Yesterday morning I grabbed a pack of Love Grown granola to snack on before hitting the gym for a cardio session.
When I got to the gym, I hopped on the elliptical without any particular plan in mind. Then, after just a couple of minutes I decided to bang out an interval routine that came to mind right then. I don't really know where it came from, but it worked me good.
| | |
| --- | --- |
| Intensity | Time |
| Warm Up | 5 min (0-5) |
| Speed Interval | 1 min (5-6) |
| Recovery | 1 min (6-7) |
| Speed Interval | 2 min (7-9) |
| Recovery | 1 min (9-10) |
| Speed Interval | 3 min (10-13) |
| Recovery | 1 min (13-14) |
| Speed Interval | 4 min (14-18) |
| Recovery | 1 min (18-19) |
| Speed Interval | 5 min (19-24) |
| Recovery | 1 min (24-25) |
| Repeat Intervals | 20 min (25-45) |
| Cool Down | 5 min (45-50) |
Basically, I alternated between a higher speed and intensity interval and a recovery period. My recovery period remained one minute after every speed interval, but the speed interval increased by one minute each round until hitting 5 minutes. I went through the interval session twice, before cooling down for the final 5 minutes of this 50 minute routine. Loved it! I know you will too if you give it a shot!
After that, I came home with a strong craving. For oatmeal with strawberries, raisins, and peanut butter.
I crave this breakfast practically every day. I'm cool with it. I know it satisfies me and I would hate to vary it up "just because" and end up wishing I had my tried and true oatmeal with iced coffee instead. Sometimes I crave different things for breakfast – like PBJ French Toast – but it never fails that I return to this favorite.
My cravings went down a slightly different road than normal lately once lunch time rolled around. I knew I wanted two things – an egg sandwich and a smoothie.
Interesting combo, but it's literally all I could think about for lunch. My egg sandwich featured one egg, a garlic herb laughing cow wedge, spinach, and tomato.
My smoothie included a frozen banana, a scoop of peanut butter, vanilla almond milk, some vanilla protein powder, and xanthan gum to get that milkshake quality I so adore.
Once snack time rolled around I, yet again, knew only one thing would make me happy. I must have had breakfast on the mind because I found myself craving the exact bowl of cereal Courtney had shared earlier in the week.
Funnily enough, her post was about how that bowl didn't satisfy her cravings. I guess it felt shunted by her and hopped through the screen and planted itself as a craving in my belly. Thanks Court for sparking a cereal bowl craving that I could easily satisfy – Kashi Honey Sunshine cereal, Fiber One 80 Honey Squares, and a banana. 😉
My snack held me over for a bit of studying NASM materials before my sister showed up for dinner. We had taco night on the menu, but when dinner rolled around I wanted something a little different. I couldn't completely overhaul the menu since others wanted their tacos, so instead, I took some inspiration from my blogger lunch and created a Mexican breakfast quesadilla.
I scrambled one egg and one egg white with a mix of black beans and corn. Then I mixed it all with salsa and lettuce to layer on a whole wheat tortilla. Topped with cheese and another tortilla to cook in the funky little quesadilla press I got as a gift forever ago.
It even has fun little designs on it. 🙂
It turned out great! Me gusto muchisimo! <—The former Spanish teacher in me is pained at the lack of accent marks in that sentence.
I wrapped up the night with some Phase 10 game playing action with the sis and her boyfriend. And an ice cream cookie sandwich.
'Twas National Ice Cream Sandwich Day after all. And who am I to not celebrate such a momentous occasion??  😉
What random food holiday would you create? I think every day is Strawberry Raisin PB Oatmeal Day here.
What is the last random craving you had? I didn't mention it above, but I had the strangest craving for gum yesterday. I don't usually chew gum, either!
Tags: breakfast, dinner, lunch, recipes, snacks, what i ate wednesday