Posted: July 13, 2011 at 8:02 am
Hi, friends! Top of the morning to ya! It's Wednesday morning, which you may have figured out now means a What I Ate Wednesday post a la Jenn!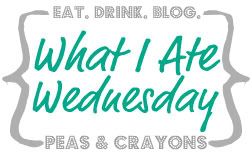 Let's hop right in with the good stuff!
Yesterday morning, I grabbed my standard piece of fruit for a pre-workout snack as I run around feeding little children's mouths and getting ready for the gym. I don't like working out with a heavy stomach because then great workouts will make me want to vomit. And vomiting is no fun, agreed? 😉
I completed a full body weights workout followed up with 30 minutes of light elliptical action. No intervals. Just slow and steady. It felt calming, which is just what I needed after the hectic mindset I had earlier. And cereal was just what I needed after a great workout.
Have you heard that cereal is actually fantastic for a post-workout meal because it has plenty of carbohydrates to refill energy stores and some protein as well from the milk? I believe it because cereal sounded good for post-workout today. Have you also heard of Fiber One's new Honey Squares 80 calorie cereal?
I got a box of this cereal to sample free of charge and have fallen fully in love. I assure you the company did not buy my love. In fact, I promptly went out and bought myself two more boxes while on sale – using two coupons of course. Pick up $1.00 off and $0.75 off printable coupons to use for yourself after hearing how good this stuff is.
It has the perfect crunch, just enough sweetness, ingredients that don't make me feel like I'm a rat in a science lab, and a healthy dose of fiber (40% daily value!). And I will admit – I like that it has a lower calorie count than most cereals because I can fill up on even more. I love cereal, but I can easily go heavy on the pouring and end up with three servings. Three 80 calorie servings = way more reasonable than three 180 calorie servings. Not that I would know or anything. Ahem.
I devoured a large bowl topped with my diced strawberries and raisins combo. You didn't think my favorite oatmeal topping would disappear now did you?
None of my meals really got any more difficult than a bowl of cereal the rest of the day either. In fact, I almost feel a little embarrassed by the sheer ease, laziness, and packaged-ness of most of the day's eats.
Lunch:
A grilled ham and swiss sandwich. Carrot sticks, cucumbers, and hummus. Watermelon.
Snack:
A S'mores Lunabar and a container of Chobani greek yogurt.
Dinner:
I actually pulled out more produce for dinner. I chopped up a zucchini, two small summer squash, a small head of bok choy, some onion, and some mushrooms to stir-fry all together. Since I didn't feel like cooking a full meal, I turned to the freezer for some packaged chicken egg rolls we had to use. And while the nutritional stats aren't terrible in those little eggrolls, I can't deny their super processed state.
I almost felt embarrassed for showcasing meals like cereal, packaged bars, and frozen eggrolls in a What I Ate Wednesday post. No cooking. No creativity. Nothing fancy. Nothing perfectly unprocessed with zero added sugars and zero disodium guanylate.
Then I remind myself I still strive overall to eat as high quality as possible but also without stressing myself over every meal choice. I can't feel embarrassed for eating what suited me yesterday despite it not living up to some of the standards that occasionally seem prevalent in the blogging world. I always appreciate blogging for opening my eyes to new, fun ways to eat mindfully and beneficially to my body. At the same time, I also have to remain aware to not allow the "blog food standard" I create in my head to overwhelm my decisions. So, I had my egg roll lazy meal day. Chomp.
Are you a cereal addict?
Do you ever feel a certain unspoken standard for food on blogs? What do you think are the pros/cons?
Tags: breakfast, dinner, lunch, review, snacks, what i ate wednesday