Posted: July 7, 2010 at 6:09 pm
Hello all! Especially the couple of new readers/commenters that have been popping up in the last post or two. I am happy to hear from everyone. Speaking of which – does it seem like there are crickets chirping around the blogosphere lately? It just doesn't seem as lively with people posting and, especially, commenting on blogs lately. I didn't know if it was just me or what. I think it's because summer is in the air. Not a bad thing in my book.
Many things have kept me occupied this week, that's for sure. It may only be Wednesday, but I feel as though I have done enough for the entire week. Today I started off with a Kick class at the gym. It felt so good to be back. Then, I spent the day with a friend at her house. We planned on taking a walk with our kiddos, but the 98 degree weather quickly squelched that idea. I don't care to die of heat stroke today, thankyaverymuch. I instead savored every moment of A/C at her place before I had to head home and pretend I was on a tropical isle. Without a dang margarita.
Swoon. Oh, what I would do for a tequila laden, salt-rimmed, tangy glass right about now. Well, I won't harm my baby so I guess it's all a moot point. I will simply spice things up in my life a different way.
With Mexican food, Edward, and Hot Tamales. Triple swoon!
Last night, as I mentioned, I had a ladies' night with my mom and sister. We hit up a few things I was craving. First off would be Mexican. I told you – Mexican, BBQ, and Chinese will never lose their appeal during pregnancy. They call to me like those pesky sirens call to the seamen. I even "forgot" to eat my afternoon snack so my appetite would be suitable for Cheeky.I've told you before I'm in love. Instead of saying it again I will just provide the proof that jaws drop and drool flows at the sight of the beauty.
I had a taco trio plate with one fish, one crabcake, and one pork mango taco. I ate about 3/4 of each taco and most of my beans. I didn't touch the rice. It wasn't worthy of room in my stomach like the chips + salsa.
After dinner we had a bit of time to kill before going to see our movie. My mom mentioned wanting to break movie law!!!! get some Hot Tamales to bring with us to the movie.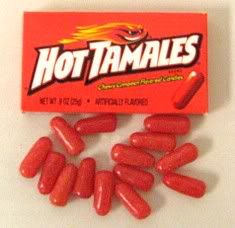 I'm down with that. It would only be my 2nd favorite candy and sometimes you must use the whole pregnant-so-eat-for-two reasoning. Not every day mind you, but once in awhile is good for the soul. It's gotta be in the Bible somewhere I tell you. And after having to stop at three different stores to find some, I certainly swooned.Yes we stopped at 3 stores because a gas station and the Target were out. Um, if you've been pregnant you understand the logic behind this.
Now it was time. Time….for Edward er, Eclipse.
I got swept away in the books before the movies existed and eat up the movies simply because they do such a good job of portraying the books. I also believe there is something innately sexy about Edward. Not Robert Pattinson, but the vampire. Only the vampire. It's 100% the crazy intense passion and I think that is what draws me into these stories so much, as well as the intriguing characters and plots. You can say I'm a preteen little girl, but I like the series. So there. *stamps foot and sticks out tongue* I'm so mature. I guess it runs in the family. I'm off to celebrate my grandfather's 89th birthday and he is not mature by any means. Ciao!
What is your favorite thing to snack on with a movie?
Do you enjoy the Twilight series? What is your favorite (or least favorite) thing about it?
Does the blog world seem quieter to you recently? I think we are all naturally taking breaks. I know I had mine!
Tags: dining out