Posted: September 29, 2010 at 10:00 am
Over the years, as I grew to love myself more, I gained more insight into all life has to offer. I finally had the chance to experience life when I cared less about how much I weighed, how many calories I ate, or how I looked in the mirror. Moving my attention and focus from such trivial matters opened new doors for me. I had more mental (and physical) energy to pursue more fulfilling areas of my life. Those ignited strong passions within me and now my life would feel empty without them. I have three great passions that provide me with so much – strength, purpose, love, confidence, opportunity for growth, and more. These passions continually make me a better person and allow me the opportunity to love my life and myself.
[source]
Living My Life for God
For me, this is truly what life is all about. I feel I cannot do wrong if I have God at the center. Living my life for Him feels like opening a most special present every single day. I know great things await me because I can trust in Him. It helps me be more compassionate to all I come across and sharing kindness fills me up with joy. He gives me the example and capacity to love others and love myself. He opens my eyes to the many blessings in my life, so I can appreciate them. Knowing that He values me helps me value myself. He ignites me to live, which is something I didn't want to bother with before knowing Him.
[source]
My Family
Peter, Makenzie, and Braedon mean the world to me. I want to do all I can to support them and love them. Each day I work hard to care for them and ensure they know exactly how much better they make my world. I hope to support my husband every way he needs and encourage him as he encourages me. I strive for Makenzie (and soon Braedon) to grow in an uplifting environment and to truly know their worth.
[photographer]
This Blog
This blog serves as a place to share all my passions, including the big two I mentioned above. I adore all that goes into healthy living and cannot get enough of it – workouts, nutrition, self-love ;). Finding a community that enables me to share all I love and supports me in the process is, simply put, empowering. It has helped me grow and continues to push me to discover new interests. I never knew how much I adored writing. I never anticipated this blog would become such an ingrained part of my whole. I wish to never stop because I sincerely love it that much. That may sound cheesy, but I would be lying if I didn't include it in my top three. Thank you for helping me to continue something I love so much.
Having these passions in my life gives me meaning. These passions remind me of just how wonderful I am. I don't mean that to sound conceited. God could do just fine without me. If Peter had never met me, I'm sure someone else could support him and love him just as much as I do. I certainly do not hold the belief that the blog world would lack something if I were not involved. I simply hope to express that finding passions gives me vitality and makes me appreciate myself more than imaginable.
If you do not know them already, I urge you to find your passions. Try out many new things until you come across them. Consider what excites you and chase after it. Find something that ignites you. Make life more than just going through the motions. Embrace life with excitement and let your passions guide you.
What things are you most passionate about? How do they affect your life? If you aren't sure on a passion, what makes you happiest right now?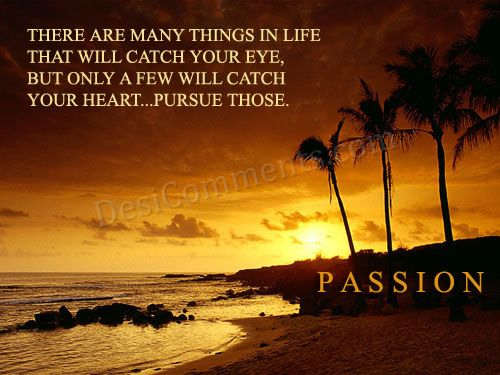 [source]
Check out these bloggers who shared their personal thoughts on the 30 DSLR! Only one more day left!
Tags: self-love reflections