Posted: October 11, 2010 at 7:01 pm
It's so true that venting can help relieve tension and help you move on in better spirits. After my post earlier today, I immediately felt better and truthfully found humor in it all. Then, things picked up quite nicely.
I got to enjoy my missing cup of coffee during M's afternoon nap, while relaxing on the couch.
I managed to do all the dishes and finish laundry. Then, fit in a good sweat session with some TurboKick. And with my little fitness mascot. 
All in all, the day ended up pretty good. Even with the dreaded grocery shopping involved. You know what I realized though? I don't think its the act of grocery shopping that bothers me. The whole act of trying to remember the reusable bags, driving to the store, and lugging a kid in and out is not what turns me off from this errand. I dread the preparation the most. The list making and meal planning.
You know how people experience the Sunday blues when faced with going back to work the next day? I do not exaggerate when I say I face those blues  thanks to having to come up with a grocery list. Every Sunday night the same drama ensues.
Me: What do you want for dinners this week?
Peter: I don't know. Whatever.
Me: How about this?
Peter: No…I don't like that much. How about this?
Me: We just had that this week.
Peter: Oh, yea.
Me: *rack my brain and scramble to come up with something*
This process usually leaves me with meals that, while tasty, lack creativity and rotate out fairly regularly. This week's meals look like this:
Tonight we had brown rice, assorted roasted veggies, and Great Northern beans.
Tue: tacos with beans, local/organic/grassfed beef, corn, & other fixings
Wed: dinner at church with our small groups
Thur: chicken + veggie eggrolls (like Trader Joes but different brand…aka ingredients I know), broccoli
Fri: at home pizza night
Sat: dinner out after corn maze/pumpkin patch
Sun: Gina's Sweet Potato & Black Bean Chili
When making a meal plan, I always keep in mind our schedule for the week, meals that have an easier preparation, and what types of things we usually feel like on certain nights. For example, I tutor on Thursday night this week, so I need something Peter can get together easily. On Fridays we never feel like cooking a full meal, so pizza tends to show up. Sundays tend to leave us craving something simple and lighter after a dinner out on Saturday. I know how to make a meal plan that suits us. However, I wish our meal plans had more variety in them from week to week.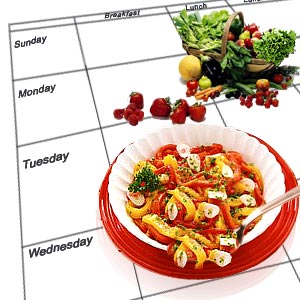 [source]
I do find meal planning beneficial for many reasons. It helps us stick to a food budget. It motivates us to prepare healthier meals. If I waited until dinner time each day to decide what I felt like preparing, I would likely end up eating pizza or cereal every night because I would not want to cook. Meal planning also fits my schedule better because I don't have to run to the store numerous times each week. I love what meal planning does for us, but I hate not ever knowing what to make and facing that dilemma each and every week.
So, how do you manage it? Do you plan out your meals and do one big shop each week? Or do you go day by day? How do you incorporate variety in the dinners you make?  Any great, easy dinners you want to share? And any other meal planning tips you have? Spill your list making and meal planning habits in the comments section. I want to hear them!
Tags: dinner, healthy eating