Posted: October 12, 2010 at 11:00 am
The other night, Peter & I were watching Desperate Housewives. I don't really know what struck me in this particular episode more than others (ahem -Susan dancing around in a negligee, Bree wearing a dress showing too much fake cleavage), but the entire episode I considered how people view these women and their bodies as admirable. This of course fired more synapses and, before I knew it, I sat there distracted by the thoughts that I no longer have any desire for my body to resemble many of the women heralded as fit and fabulous in the media.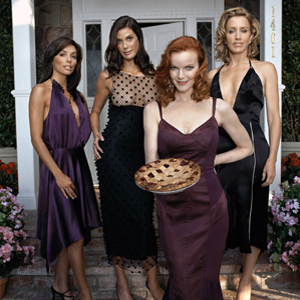 [source]
I don't know if this coincides with me reading less magazines and caring less about celebrity gossip than I did a few years ago, a simple development of maturity, or even my involvement in the blog world. Today I want to focus on how the blog world has impacted me in this way. I find myself more inspired than ever when learning about real women.
Hearing of their accomplishments in healthy living and fitness related pursuits motivates me to continue on my own path of health. When I see a fellow blogger praise her body and love herself for who she is I cannot deny that if she can do that, then I can too. I recognize her beauty, strength, and poise and in a way feel the same of myself because we're all in this together and uplift one another to be our best. I admire the genuineness of other bloggers because I can witness the faults and weaknesses, but still respect the person behind them.
Real women give me real inspiration and I believe that is what keeps me coming back for more. I appreciate every blogger who shares their path to a fulfilling life, because every person has something inspirational to share. I value the advice and openness bloggers offer because I appreciate knowing what works for different people and pulling new ideas that could work for me from them. In truth, I believe bloggers hold a lot of power and influence.
I hope to never shy away from the fact that I hold responsibility as a blogger. I openly discuss my thoughts and try very hard to present the real nature of who I am on this blog. I do that because I want to display the truth of life – the ups and downs and everything in between related to every topic of living a fulfilling, healthy life. And in doing so I will not undermine that these things can influence others. Part of why I love blogging is to not only gain support and motivation from others (like in my recent Eating Hypocrisy post – THANK YOU for all those comments by the way), but also to give it out. With that goal comes responsibility and that is why I am so appreciative of Heather beginning a powerful discussion on her blog, Hangry Pants, over the weekend.
I will always do my best to be mindful of readers and how I present myself. I do hope to inspire others to love themselves more, pursue balance in life, and find a place where they can feel healthy and happy. As I hold no professional credibility, I can only do this through sharing my own experiences and what helps me. That does not mean I can ignore that sharing my own self and thoughts can have an impact.
[source]
This is why I try to put disclaimers or clarifying statements in posts relating to my pregnancy or when I shared what went into competing in fitness. This is why after I give birth, I will openly share my journey and process of getting back in shape post-baby…but will never share my weight (which I won't know anyway because a scale will never be involved), pants size, every little thing I eat, yada yada yada that could be construed as me claiming them as the way to lose weight or be fit. It's also why I do not yet know if I will do any sort of progress pictures on this site and if I do, how it will be done respectfully of readers because I don't want to foster anything negative here on Faith Fitness Fun.
All in all, we need to recognize our influence. We need to own up to the fact that we are inspirational forces that others turn to for advice, motivation, guidance, and support. We need to remember that comparison traps still exist and people may use what we say or do in a negative way. Readers certainly need to consider what they read and how it impacts them, then steer clear of any that hurt more than help. I agree that we certainly do not hold all the responsibility. But please, do not diminish your significance. It's out there. You're real and you really inspire, whether one or one thousand plus readers. I know your significance touches me every day.
[source]
Where do you find inspiration for health, fitness, body image, etc?
Do you view yourself as motivational? How does that impact how you blog, or in life in general? While I certainly don't think I'm some huge inspiration, I know my actions reach others and for this I always try to be aware of how I present myself -  true to myself with respect for others.
Tags: blogging, body image, motivation