Posted: November 27, 2010 at 3:19 pm
Now that the tree is decorated and things are more organized in our house again, I wanted to continue the holiday spirit today. I want to do nothing but enjoy this holiday weekend and fill it with as many of my favorite small traditions as possible. After all, every weekend after this until Christmas is already filled with other fun events – multiple parties, a special family night, and perhaps M's first ride on the Macy's Pink Pig around the big tree in downtown Atlanta.
I started our mini-traditions last night by watching Elf with Peter.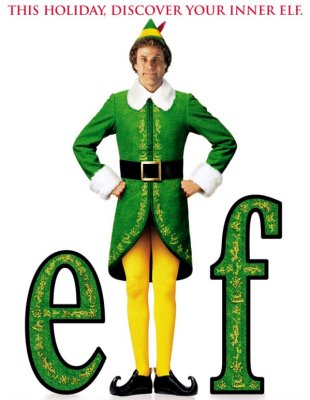 The movie may only be 7 years old and not quite a classic, but it has quickly become my favorite. 'Twas the perfect way to end a day of tree decorating and toy organizing.
This morning, I once again awoke not feeling the greatest. In my opinion, that just shows how smart our bodies truly are and that we should listen. My midwife explicitly told to take it easier these last 8 weeks of pregnancy, so if I feel weak or tired at all I skip my planned workout and thrive on my regular activity. Daily activity counts plenty for me right now. If I'm feeling good, I'll work out. If not, I won't. That simple to care for me and baby B.
Besides, shopping counts as a workout, right? 😉 I thought so. I hit up HomeGoods and Kohls for a couple of things for gifts. I adore Home Goods! They had so many adorable holiday displays out and great gift variety for many people I'm buying for this year. I have a feeling I will be going back when I know who I will be buying for in the blogger gift exchange. Have you signed up yet??
Then I headed to Target to pick up a few gifts for M and the ingredients for how I planned to spend some of my afternoon. Fudge making!
Every year for the holidays I make a special mocha fudge. It's one of the things I make really well. This year, I plan to donate some to a bake sale Tina plans to host next week and I wanted to switch it up a bit. Instead of just mocha fudge, I wanted to see how peppermint mocha fudge would taste. It's as fabulous as it sounds…and looks.
I hope you all are having just as enjoyable a Saturday! My night will only continue to get better with a special date night with Peter. See you all tomorrow afternoon. 🙂
Do you have any special holiday treats you always look forward to making?
What is your favorite holiday movie?