Posted: May 1, 2011 at 1:26 pm
I strive to make a concentrated effort to eat as healthfully as possible. That decision has little to do with weight or how others perceive my eating habits. I simply know that eating vegetables, fruits, whole grains, healthy fats, lean proteins, etc helps me feel better and live a higher quality life.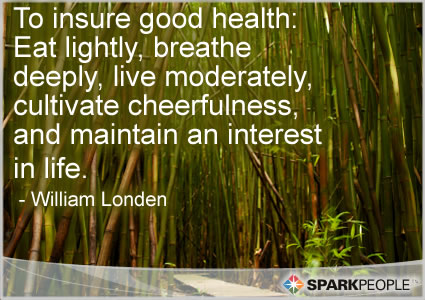 [source]
In the past, I certainly found myself caring less about where my food came from just as long as it helped me reach my daily caloric intake goals. Even when I focused on eating enough calories to fuel my body, the calorie count still reigned supreme. I didn't consider reading the ingredients of nutrition labels over the other statistics. I didn't think about where my food came from. I didn't determine a food's worth based on its wholesomeness – an apple or a 100 calorie pack at lunch were interchangeable.
[source]
I had already given up those food rules of things being "good" or "bad" but the calories still defined how they fit into my eating habits. After my fitness competition, when I could freely give up calorie counting (and coincidentally a bit later picked up reading blogs), I began to change how I viewed food. Not only did I want to fuel my body with enough food, but also with valuable energy.
I knew my body deserved respect. I wanted to care for the body God had given me. It could do so much for me by surviving years of binging, enduring months of brutal competition prep workouts, carrying a child, and beyond. Why should I not give it my best? And wouldn't it make sense that the best I could give my body came in the form of the foods God gave us?
[source]
That was how I personally become to understand the importance of giving my body the best quality and choosing the apple over the 100 calorie pack every time. Only I have the choice on what my body receives nutritionally. I still don't view things as "good" or "bad". I still will have processed items without any guilt. Now, however, I desire the wholesome foods because of how they support my body, instead of how they support my personal goals or body image. I am still a work in progress and have a lot to learn. Nevertheless, I also know that I will make that progress and continue to honor my body with natural, wholesome foods. Because it deserves it.
Have you experienced any shifts in how you view food?
What are the biggest influences in your food choices? Without getting preachy, my personal reason lies in trusting God. He gives me so much…including my body's wellness. To keep that wellness it only makes sense to me to trust God's food to feed it as well. Just as His word feeds my spirit and joy in life.
Tags: self-love reflections