Posted: August 2, 2010 at 5:52 pm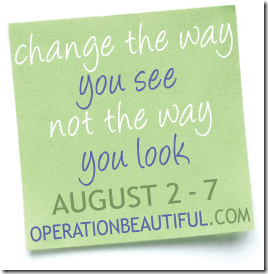 In honor of Caitlin's Operation Beautiful book release this week, I am contributing a post to the "Change the Way You See, Not the Way You Look" campaign. I have said before that I believe the message behind Operation Beautiful needs to be spread far and wide. This post even fits nicely with the 30 days of insight I'm doing with some other bloggers. Today's topic was something that inspires you. What could be more inspiring than learning to love yourself and see your true beauty?
When I considered and prayed over what to write about, one thing came to mind. Love every part. Top to bottom. Inside and out. So that is what I am going to share with you today. Myself. Top to bottom and what there is to love about every single bit of ourselves.
Heads up! These globes sitting atop our shoulders house something that can be our best friend or our worst enemy. Our thoughts rambling around in our brains. From your head comes the power of positive thinking. As well as all the quirks in your personality that make you unique and interesting, which is a beautiful thing. This powerhouse also drives those smarts, from knowing how to concoct fabulous recipes to how to write with words that grab an audience to solving any problem laid before you. Celebrate your mind and what it can do.
Looky here! Some say the eyes are the windows to the soul. I say the eyes are the window to the world and appreciating yourself. Your eyes can see the beauty in the world and the loveliness in others. Not because of their size, but because of their heart. Your eyes can express yourself, whether crying tears or flirting with "come hither" looks. Your eyes sparkle with life and are beautiful.
Say cheese! Check out that smile. That smile that shows the joy of your heart and at the same time your inner beauty. That smile that welcomes others into your presence and makes you feel better on a bad day. The smile that can light up a room because every smile has that power. The smile that exudes confidence and in confidence is beauty.
Spread like wings! Your arms have an important purpose. They embrace a friend. They can carry a child. They lift weights and exhibit strength. They can flow in dance and punch out frustrations in a kickboxing class. Your arms are powerful and strong. They show your strength of body, spirit, and heart. What is more beautiful than that?
Palms up! Your hands are the givers of your soul. They can write a blog to motivated others or a letter to support a friend. They can touch a lover or open up to give a gift. Hands are the tools used to create. They can serve others in cooking meals, building houses, or applauding someone at the end of the race.
Pump, pump, pump! The heart is amazing. It keeps you living with the blood it pumps. It holds the precious entity of your soul. It can break in two and grow back together stronger. It lives and never stops.
My center! The stomach. It processes fuel to support your body. It functions smartly because it knows when to signal hunger and fullness. It can bear a child and bring life into the world. Well, that part is close enough to the stomach. See my baby growing? 😀
Check out those gams! Legs, butt, feet. All so beautiful. Watch how they move your body and enable it to run, dance, walk, and play. They even do amazing things like squat heavy weight and carry you around day after day. They help you go new places. Who can deny the beauty of movement the legs give us?
Your body is all of these parts. Each one matters and each one is beautiful. All these parts work together to bring you a life. A life worth living to the fullest. Don't let it pass you by and appreciate every part. And just as our bodies have parts that all work together, so should we, as women, all work together. Let us uplift one another. Let us help each fellow woman to realize her beauty and the fabulous person she is. If we all work together, like our bodies work together, we can achieve great things.
Never forget. Your body is God's masterpiece. Even more valuable than the Mona Lisa. Have you appreciated it today? Do it now. Say "I'm beautiful!!!"
What is one part of yourself that you believe is beautiful. Why?
How can you help a friend see her beauty?
Tags: body image, self-love reflections