Posted: April 3, 2011 at 5:04 pm
During the self-love reflection topics, we have discussed many varying ideas that relate to living our best life and loving ourselves fully in the process. We discuss aspects of our minds (perspective), our bodies (trusting their intuitive nature), and our hearts (love from others motivating love for self).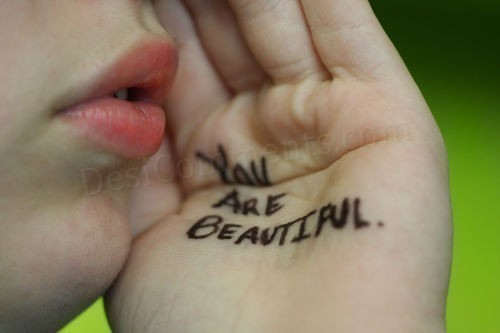 Our inner workings truly make us beautiful. Our outward characteristics do so as well…and not just because what our bodies can do, like we share in the gifts of the body posts.We must also believe the term "beautiful" can be an accurate way to describe our physical appearance.
No two people on this Earth share the exact same physical characteristics. Even identical twins up close display different features thanks to different experiences and preferences. The uniqueness of you alone is enough to make you beautiful. We each have alluring qualities in which we can build our confidence and recognize as attractive.

[Dove campaign]
We cannot definitively define beauty, as each culture and every individual within that culture holds a distinct opinion of what classifies beauty. Do not allow the trap of popular opinion to ensnare you into thinking you lack beauty. That simply is not true. Find what you think makes you beautiful and take pride in it. What feature do you deep within your gut know makes you physically beautiful? Do not believe any different and bask in the gratification of honoring your unique appeal.
We must not forget that outward appearance does not define our worth as a whole. However, me must also feel free to declare our beauty on the outside. We all desire it…and we all have it.
What physical characteristic makes you beautiful? I have always received compliments on my eyes and I truly think they are beautiful. They are big and a vibrant green. I love how unique they are to me.
Tags: self-love reflections